"It's my Pandemic Panic Survival Plan," says Lillian Todaro.
"Bead...Bead...Bead some more!"
The multi-award winning veteran bead jewelry artist and sculptor has been down crises roads before and knows whereof she speaks:
"During 9/11, beading helped me keep it together."
Necklace by Lillian Todaro: "Night Flyer"

In the midst of swirling COVID-19 anxieties, tragedies, shutdowns and stay-at-home orders, you can find Lillian serenely sitting in her "beading chair," creating stunning wearable art pieces, with one eye on a Sci-Fi flick next to her author/educator husband of 29 years, Tony Todaro, who helms Todaro Communications,

the Greater Los Angeles Writers Society (GLAWS), and

the West Coast Writers Conferences (

WC

2

).
"Beading will save your life," promises Lillian. "It takes care of everything."
Lillian Todaro is vice president of The Bead Society of Los Angeles and co-founder of the Facebook group, Confessions of a Bead Addict.
For the past 50 years, Lillian has found salvation, peace of mind, and the joy of creation in bead artistry.
"Handling the beads gives me a sense of connecting with the Universe, like chanting. They speak to me and it's very comforting. Before I start work on a piece, I sit with my 50 bead jars that are full of various colors and shapes of crystals, wooden and vintage beads, and I listen for the ones that say: 'Use me!' W
hen
I touch them with my needle, they practically jump on.
"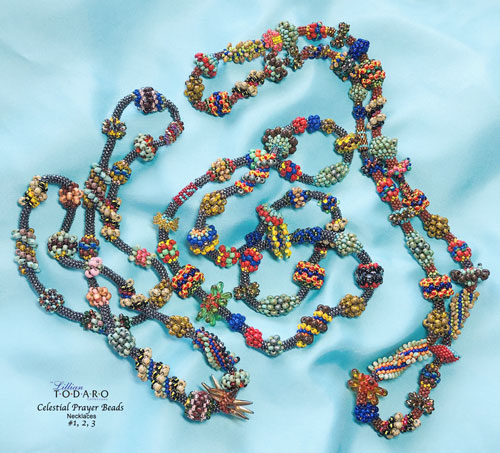 Celestial Prayer Beads Necklace, Lillian Todaro Collection

The calming effect is not limited to the jewelry maker. "People tell me that wearing my pieces has a soothing, calming effect on them."
In non-pandemic times, Lillian Todaro can be found in the booth her husband made for her at festivals and bead bazaars, offering her beaded jewelry, DIY beading kits, and teaching manuals. Her creations attract an enthusiastic international clientele and collectors.
"Because of the lockdown, my spring shows have been cancelled," she says. "I'm really looking forward to participating in the Culver City Bead Bazaar in October."
Lillian's online market sites are still going strong at her
LillianTodaro.com
website and
Bead Art Kits on Etsy
. You can select ready-made jewelry or commission her to create a custom piece, choosing the colors and kinds of beads for a unique piece. "Emerald the Beaded Snake" was created for someone who asked for a beautiful snake sculpture.
Emerald, the Beaded Snake
Sculpture by Lillian Todaro
Spring Bead Jewelry Making Classes
It's not possible to talk with Lilly
(as she's known to friends)
for long and not have her ask if you're interested in learning to bead: "Why not try it and see if you like it?"
Bead Sculpture by Lillian Todaro: "Earth Bag"
A born teacher, she calls herself a "Creator of Beaders," and has penned numerous published books on the art of beading.
Right now Lillian and Tony Todaro ("He's my roadie and my Zoom techie...") are busy preparing to launch virtual beading classes, and registering students who wish to learn bead embroidery (stitching beads to foundation material like fabric or leather), and other bead weaving and jewelry techniques.
"The classes are small so I can give personal attention to each student."
Octopuses Garden
Beaded Embroidery Wall Hanging by Lillian Todaro
Her bead jewelry kits come with streamlined instructions because
"I believe in beading, not reading."
Bracelet by Lillian Todaro
Lilly has one piece of very valuable advice for
a newbie student who hits a pothole of frustration: "I remind them that it's just a little piece of glass with a hole in it, and that calms them down so they keep going and pretty soon they don't want to stop."
Interested in classes?
Contact Lillian at
LillianTodaro.com
for
dates, times, and registration info.
More Info and Contact Information:
Lillian Todaro Website
http://www.lilliantodaro.com
Original Lilly's Collections
Vintage Crystal Collections
Lillian Todaro Collection (Wearable Sculptures)
http://lilliantodaro.com/sculptures/index.html
LILLIAN TODARO WELCOMES
ALL MEDIA INTEREST.
"I love to share my knowledge of the significance of beads and the beading world with all cultures," says Lillian Todaro. "It's so important that this artistic practice be kept alive and continue."
She
has appeared on Fox 5 San Diego KSWB-TV, and the Home and Garden Channel (HGTV) Carol Duvall Show.
Lillian Todaro on Fox 5 San Diego KSWB-TV
INTERVIEW WITH LILLIAN TODARO
Q - How did your love affair with beads start?
A - When I was very young, I was fascinated with the rocks and stones in the riverbed near my home in El Monte. I used to take them home. I'd even lick them. When I was three or four, I'd make my parents stop at Trading Posts on roadtrips from California to Texas, so I could look at the beadwork and make them buy me something.
My grandmother was
a wonderful bead artist and one summer, she taught me how to make beaded jewelry. After that, I was hooked, and
I spent a lot of time and money at Woolworth's buying beads.
Earrings by Lillian Todaro
Q- How did you get started with bead sculpture?
A-
For about 20 years, I had been beading more traditional types of beaded jewelry like the beaded earrings. Then one summer in in the early 90's I saw an article on Joyce Scott, a bead sculptor artist and I was freed! No more counting beads and I started beading outside the lines. I did take a class on a few basic techniques and I have never looked back. I have since developed many techniques on my own and written several instruction booklets that have been called "The Blueprints for Bead Sculpture."
Q- What's your most interesting teaching experience so far?
A- I've had many over the years, but there was one student with multiple sclerosis (MS) who could barely hold the needle. I got her to make a cube cuff bracelet. She was ecstatic.

I had another student who spoke no English and her daughter had to translate. We spoke the language of beads and we became friends.
Q- How long does it take you to make a piece?
A- It varies.
The Celestial Prayer necklace takes one to two days.
REDress Project Pin by Lillian Todaro
A- It takes me three or four hours to make a pin like the Red Dress brooch that I made for the non-profit campaign, "Missing Murdered Indigenous Women and Girls (MMIWG)" that was featured along with 100 other artists' creations in the REDress Project YouTube video made by Justine Sanchez
to help raise MMIWG awareness on Mother's Day Weekend in 2019
. I made two—one for me and one for Justine to thank her, beading into the pins a "J" for "Justice" and "Justine."
YouTube Video: MMIW RAISING AWARENESS Bead Talkers
Beaded Red Dresses Challenge May 5, 2019
More info about MMIWG and their campaign for this Mother's Day Weekend is below.*
The fastest stitch is the lazy pearl spiral because I can string eight beads at a time and make a bracelet in about an hour. This has been one of my most popular workshops.
Lazy Pearl Stitch Bracelets by Lillian Todaro
The Peyote Stitch is good for beginners because it's the most versatile for making necklaces and earrings. A cube cuff is fairly easy because you're just going back and forth with square beads.
You can see a variation of it in my celestial prayer necklace called the "Peyote Spiral." I wrote a book about how you can make almost anything out of it.
Peyote Spiral (Peyote Stitch Variation)

Q- Is there a "community" of beaders?
A - Absolutely. It's big and growing. Our
Confessions of a Bead Addict
Facebook group
brings us together. Everyone is welcome. Even if you've never touched a bead, but you're just curious. "Bead Talkers" is a large Native American group that is very active.
Beading is a kind of Zen mind-eye-hand practice, which can be tedious, and beading has always been an "outsider" art, so interaction with other beaders brings comfort.
Q- What would you say the rewards of beading have been for you?
A - Too many to name them all. You know
the original money in Native American cultures was "wampum." I made a "wampum" necklace and earrings set featuring dentalium shells that I hand trimmed and polished. I've heard dentalium are still used as barter by some Pacific Northwest tribes.
"Wampum" Necklace and Earrings by Lillian Todaro
I've bartered for all kinds of cool stuff: carpet cleaning, food, dental work, clothing, computer parts. I even gave a real estate agent beaded jewelry as part of the commission.
I love taking little tiny beads that are insignificant by themselves and transforming them into objects with arrangements of form, function, and color that didn't previously exist in the world.
I'm creating tomorrow's collectible antiques. When I look at vintage beadwork, I wonder:
"Who made this?"
***
Note: Lillian Todaro's pieces are coveted by collectors. One has 30 pairs of earrings, and another five purses. Her custom jewelry is signed in beads and a Certificate of Authenticity is available.
#LillianTodaro #BeadSociety #LABeadSociety #LillianTodaroCollection #beadjewelry #beadmakingclasses #classes #ZoomClass #wearableart #CSVANW #MMIW #TonyTodaro #GLAWS #WC2
*
About the REDress Project:
The REDress Project originated in Canada
to spread awareness, raise money for Missing and Murdered Indigenous Women and Girls (MMIWG). In just one year, friends Carla Voyageur and Jeannine Lindsay raised $10,000 through this project that went toward the costs of creating and installing missing person signage on Vancouver Island.
Four out of five Native American women are affected by violence today. On Mother's Day Weekend, this project
asks Canadians to take part in a striking one-day display of red dresses to represent the country's missing and murdered indigenous women.
A team of volunteers creates beaded red dress pins and earrings to bring awareness to MMIWG through the
Coalition to Stop Violence Against Native American Women (CSVANW).
More Info: